Difference between revisions of "Hardware"
From DHVLab
 

(3 intermediate revisions by the same user not shown)
Line 1:
Line 1:
 
+
 

== Server Hardware ==

 

== Server Hardware ==

 

=== OVirt Engine Cluster ===

 

=== OVirt Engine Cluster ===
---
Latest revision as of 19:15, 9 September 2016
Server Hardware
OVirt Engine Cluster
High available Linux Cluster for hosting the OVirt Engine inside a KVM
2x
HP ProLiant DL360 G5 Rack Mount Chassis
2 GHz Quad Core 64Bit Intel® Xeon®, 12 MB L2 Cache
32GB Memory
QLogic ISP2432-based 4Gb Fibre Channel
3xBroadcom Corporation NetXtreme II BCM5708 Gigabit Ethernet
80Gb HDD
OVirt Nodes
Nodes for hosting virtual machines. There are currently two nodes, but to scale the platform new nodes can be added easily.
2x
HP ProLiant DL360 Gen9 Rack Mount Chassis
2.3GHz 10x Core 64Bit Intel® Xeon® Processor E5-2650 v3 25M Cache
32GB Memory
2x QLogic ISP2432-based 4Gb Fibre Channel
4xBroadcom Corporation NetXtreme BCM5719 Gigabit Ethernet
Fibre Channel Setup
Shared storage, e.g. for backups, or VM images, is located on a SAN that is attached via FibreChannel. The SAN has several spare disks to recover disk failure. The SAN combines multiple physical disk drives into a single logical RAID-6 unit for the purposes of data redundancy and performance improvement.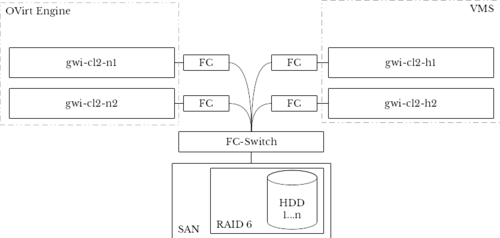 Physical Network Setup
As the OVirt Engine cluster has 3 network ports, we use one for WAN access, one for the cluster communication and one for the network that connects all nodes of the oVirt setup for command&control.
At the oVirt nodes two balance-xor bonds are created - containing 2 adapters each - that take care of load balancing and redundancy. One is used for WAN communication, the other for VM communication.


Green: Cluster Lan, Red: VM Network, Blue: WAN
Each host has a seperate ILO port that is connected to the internal network.